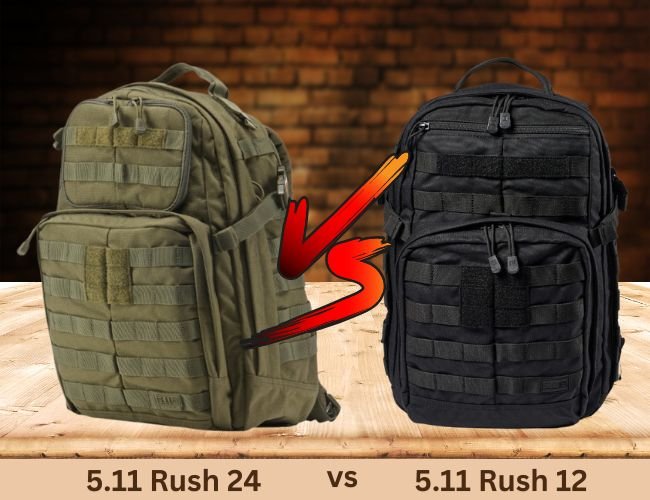 A backpack is an essential piece of equipment for daily activities. Significantly, traveling is impossible without durable gear. However, Rush is a trusted manufacturer of durable bags suitable for military use and travel. But what are the specialties of Rush 12 and Rush 24?
Rush 12 is a minuscule collection. Rush 24 is a backpack with a slightly larger space than Rush 12. So, size is the main difference between Rush 12 and Rush 24. Moreover, Rush 72 is another 5.11 Rush collection with the most extensive carrying capacity among the three backpacks.
Mainly, the numbers indicate how much time you can spend on an outing with the backpacks. Significantly, the Rush 12 is appropriate for a 12-hour outing, and the Rush 24 can be used for a 24-hour outing. However, there are some other differences between the backpacks, which will be discussed in this article.
Comparison Table: 5.11 Rush 12 vs. Rush 24 backpack
| | | |
| --- | --- | --- |
| Features | Rush 24 Backpack | Rush 12 Backpack |
| Dimensions:   | 12.5 x 8 x 20 inches | 11 x 6.5 x 15 inches |
| Material:   | 1000D Nylon | 1050D Nylon |
| Weight:  | 15.9 ounces | 15.8 ounces |
| Capacity:  | 37 Liter | 24 Liter |
| Front Pocket:   | 12.5 x 11 x 2 inches | 12 x 9 x 1.75 inches |
| Hydration Pocket:   | 17 x 12.5 inches | 16.5 x 10 inches |
| Price:   | Check Price | Check Price |
Features that impress the buyers
Several characteristics of Rush 12 and Rush 24 are perfect for impressing customers. The following features of 5.11 Rush backpacks are absolutely rare in other ones.
Quality: There is no confusion as to the quality standard of Rush backpacks. Since their quality is high-level, they are used as army backpacks. Increased comfort, safety, and good appearance increase the backpack's quality.
Outlook: The Multicam color of the Rush backpack is suitable for military use. This color is familiar to the army, and the backpack's outside is also durable.
It is needless to say that the attractive Rush backpacks increase your smartness when you carry them on your back.
The black and kangaroo colors of 5.11 Rush are also popular ones.
Stiffness: Rush backpacks are famous for their solid construction. This is why backpacks are mostly used as army and hiking bags.
Water-resistant: Both the Rush 12 and the Rush 24 are water-resistant backpacks. It does not mean that you can sink the gear in the water, but it temporarily protects the electronic items inside the bag from sudden rain.
5.11 Rush 12 backpack
Features of the 5.11 Rush 12 backpack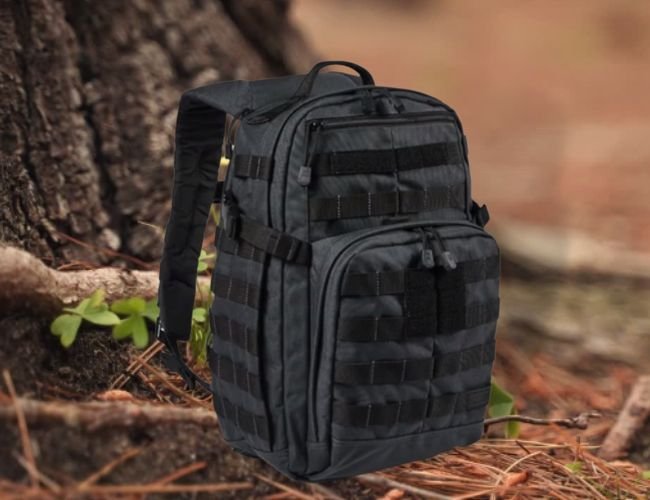 Check Price Details
The backpack has 16 individual inner and outer compartments. They are used for keeping various necessary elements separate inside the bag.

The Rush 12 backpack has a 24-liter capacity.

It is a backpack with a water-resistant feature. The bag has YKK zippers, and the zipper is a popular and trusted one worldwide.

Multi-slot internal admin compartment pull tabs and even an eyewear pocket with a fleece liner are the pockets of the Rush 12 backpack. You can easily keep your sunglasses or normal glasses without the possibility of scratching. The additional pockets allow you to carry multiple items in your bag.
Dimensions of the Rush 12 tactical backpack
Rush 12 is 11 inches in height, 6.5 inches in width, and 15 inches in depth. As a military backpack, the size is very impressive.
Material
The Rush 12 backpack uses MOLLE fabric. It uses nylon. Moreover, Rush 12 is made of 1050D nylon, durable material for manufacturing several products, including bags, tents, and other things.
5.11 Rush 24 backpack
Rush 24 has almost the same features as Rush 12. But, its dimensions are slightly larger.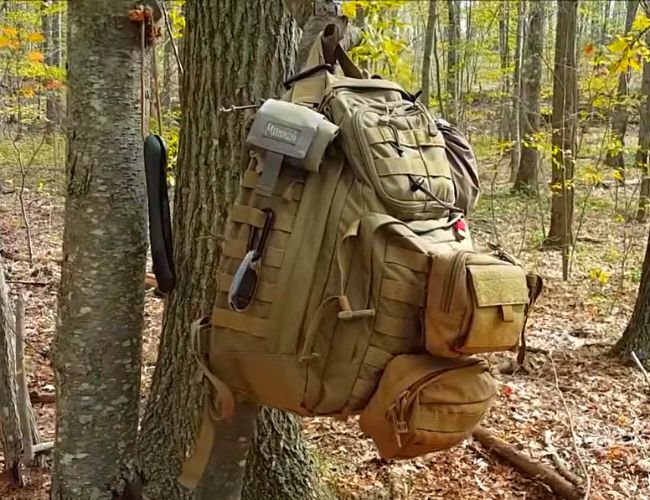 Check Price Details
Features
Its carrying capacity is 37 liters.

The Rush 24 backpack has three mesh admin compartments.

The backpack is water-resistant. So, it can protect the laptop and other electronic devices from temporary damage when you are in the rain.
Dimension
The Rush 24 is 12.5 × 8 ×  20 inches. The dimension of the hydration pocket of the backpack is 17 × 12.5 inches. The front admin pocket of Rush 24 is a sufficient size. It is 12.5 x 11 x 2 inches, which can easily keep your phones, pens, or pencils.
The differences between Rush 12 and Rush 24 backpacks
Both have comfortable features that are almost the same. But now we are going to discuss some slight differences between Rush 12 and Rush 24.
The Rush 24 backpack's dimensions are larger than the Rush 12 backpack.
According to the dimensions and the different carrying capacities, the Rush 24 can provide more space inside it.
Rush 12 is a 24 L backpack. The Rush 24 backpack has a 37-liter carrying capacity. Since Rush 24 is a slightly more extensive one, its capacity is larger.
Similarities
There are several differences between Rush 12 and Rush 24 backpacks.
Since they are from the same model, their manufacturing characteristics have some similarities. After discussing the following points, you will understand it better.
Hydration Pocket
Both the Rush 12 and Rush 24 backpacks have hydration pockets. You can keep the necessary water there and utilize it when necessary.
Significantly, when you are on a long day hike and can not find any source of water, the hydration pocket will help you. You can take sufficient water from here and drink it to save your life.
Military backpack
The 5.11 Rush 12 and Rush 24 are used as military backpacks, hiking backpacks, and travel bags. Both the Rush 12 and Rush 24 backpacks deliver robust performance. So, the army and long-distance hikers can easily use Rush 12 or Rush 24.
Fleece-lined eyewear pocket
Both Rush 12 and 24 can store your eyewear safely. They have fleece-lined eyewear pockets. If you keep your glasses or sunglasses here, they will not be scratched.
Final Thought: Which is Better?
There is no significant difference in the standards between the two backpacks. But the differences are in the size and capacity of their compartments.
You can choose the Rush 12 backpack as a lightweight bag for casual activities. On the other hand, the Rush 24 is a suitable backpack for providing moderate storage.