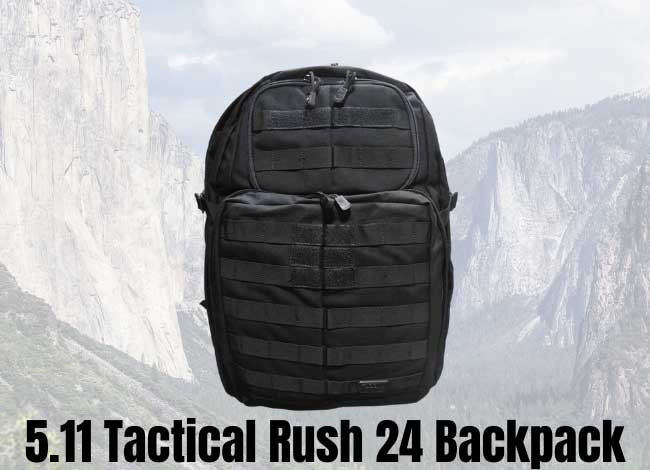 The 5.11 Rush 24 backpack is one of the most popular tactical backpacks on the market. The 37L backpack can be used for hunting, hiking, recreation, or as an EDC pack. Before I landed this bag, I had a challenge carrying my tactical backpack as it could create a lot of attention while walking on the streets. This is not the case with Rush 24, as it maintains a low profile but still offers amazing features. Read this 5.11 Tactical Rush 24 Backpack Review to know more about this.
What I like most about the 5.11 Rush 24 military backpack is that it comes with extra pockets than the 5.11 Tactical Rush 12 Backpack for the proper arrangement of your gear. You can keep a laptop, tablet, lighter, water bottle, keys, cards, flashlight, notebook, a few clothes, and some gloves.
Technical Specifications of the 5.11 Tactical Rush 24 Backpack
| | |
| --- | --- |
| Features | 5.11 Rush 24 |
| Compatible with : | 5.11 Tier System |
|  Hydration pocket Durable: | 1050D nylon (MultiCam: 1000D nylon) |
| Handle: | Reinforced grab-and-go handle |
| Pockets: | Dual zipping side pockets, Zippered fleece-lined eyewear pocket, Zippered side water bottle pocket , Stuff-it pocket |
| Ideal for: | recreational use or as an operational bug out bag |
| Wrap-around MOLLE: | /5.11 SlickStick web platform |
| water-resistant construction: | Yes |
| adjustable shoulder and sternum straps: | Yes |
| Front pocket : | 12.5" x 11" x 2″ |
| Main Compartment: | 20″ H x 12.5″ L x 8″ |
| Hydration pocket: | 18" x 12.5" |
| Dimensions: | 14 x 5 x 14 inches |
| Left and Right Side Pockets: |  16.5" x 6" x 1.75" |
| Total Capacity: | 2275 cubic inch / 37 liter |
| Weight: | 5.5 lbs |
Unlike the Rush 12 bag, which is built to last you for 12 hours, the Rush 24 backpack is constructed to serve you for at least 24 hours. So, it is better suited for people who intend to spend the whole day out hunting or hiking. Read on to know more about this high-performance tactical backpack.
5.11 Tactical Rush 24 Backpack Review
37 liters capacity
Main compartment measures 20 x 12.5 x 8 inches
The hydration pocket measures 18 x 12.5 inches
Front pocket measures 12.5 x 11 x 2 inches
Durable 1050D nylon
Three mesh admin compartment
Dual zipping side pockets
Reinforced grab and go handle
Two external compression straps
Self-repairing YKK zippers
Hook and loop nametape and flag patches
Wrap-around MOLLE/5.11 SlickStick Web platform
Adjustable height sternum strap
Zippered side water bottle pocket
Zippered fleece-lined eyewear pocket
5.11 Tactical Rush 24 Backpack Review 2022
Sturdily constructed
When it comes to durability, the Rush 24 backpack is a bag that you can rely on. Irrespective of this, this 37L pack is lightweight and fits your body very comfortably. Made of durable 1050D nylon, this is a backpack that will last for many years to come and survive tough wilderness conditions. Featuring the YKK zippers, this means that you will rarely have cases of broken zippers as they repair themselves. In addition, the backpack comes with a water-resistant PUx2 coating, which prevents water or rainfall from spoiling your stuff inside the bag.
Related article: Check the capacity of Maxpedition Falcon 2 Backpack
With such quality features, this is a bag that you can count on when you are hiking, camping, trekking, or even for your daily errands. There are also various colors to choose from, which are black, dark earth, Multicam, DoubleTap, Sandstone, and OD. Go for a color that impresses you or is suitable for the activity you're engaging in.
Various compartments
One of the features that make the 5.11 backpacks to be loved and admired by most outdoors lovers is their wide range of pockets. Also, the price is lower when compared to the Eberlestock half-track quality backpack. To begin with, the 5.11 Rush 24 backpack has a main compartment. The main compartment measures 20 x 12.5 x 8 inches. It houses various pockets and enables one to properly arrange their gear in the right place for easy access.
Inside the main compartment, there are 3 mesh pockets that are suitable for carrying items that you seldom use but can easily locate when you need them.  Also, there is a top pocket which is ideal for storing things like gloves. These are just a few of the pockets that you will find in the main compartment. On the exterior of the backpack, it has what seems like two pockets: one top and one bottom (admin panel) pocket. As a matter of fact, the top has two subdivided pockets that are suitable for storing items that you may need urgently.
There is a zippered fleece-lined pocket at the extreme top near the handle that can be used to keep sunglasses, keys, or even cards. On the sides of the backpack, there are two bottle pockets. These can be used to store your water bottles as you go camping or hiking.
Medium-sized backpack
Looking at the features of this backpack, you might think that it is extremely large. This is not the case as the bag measures 7 x 20 x 12 inches. It also weighs around 3 pounds, which makes it be portable and a great EDC backpack. The storage capacity is not as high as the 55 L Tactical Rush 72backpack. So this bag won't weigh you down nor create any unnecessary attention as you go with it to school or work.
Versatile
Even though the Rush 24 backpack is a military-grade backpack, it can still be used for other purposes. This bag can act as a survival bag, trekking bag, bug out bag, hunting bag, camping bag, and as an EDC bag. With its various compartments and large capacity, this bag can be used for almost any occasion. But it still maintains a low profile that will allow you to walk with it on the streets without raising eyebrows.
Compatible with 5.11 Tier system
If you intend to attach various hiking or camping gear to the backpack, the 5.11 24 assault backpack will come to your rescue. Thanks to its 5.11 tier system make it is possible to attach various items for use on your trip or destination.
Related Backpack: Things you need to know before buying Condor Tactical Backpack
Comfortable
If comfort is what you're looking for, the Rush 24 37L backpack will be a great fit for you. No matter the load you're carrying, this bag will always remain comfortable as it has adjustable straps with nice padding. For instance, the shoulder straps are well-padded and strong. You won't feel pain even if you carry more than 8kgs. Also, the grip pads at the base of the bag prevent the bag from rubbing.
Pros:
Sturdily made and water-resistant
Comfortable and stable
Several compartments for organized storage of items
Compact and lightweight
Adjustable straps for a perfect fit
Easy to access items with the various compartments all over the bag
Zippers are durable and self-repairing
Durable nylon construction for longevity
Extremely versatile
MOLLE webbings allow attaching of additional items and gear
Cons:
The backpack doesn't come with a specially designed compartment for delicate devices like laptops or tablets. So you have to use the nylon fabric Explorer Tactical Backpack that has a backside laptop compartment.
It doesn't come with a hip belt
Summary
Regardless of what you intend to use the Rush 24 backpack for, you will find this bag to be comfortable, sturdy, and stylish. It has large capacity storage and will allow you to carry the things that you may need within 24 hours. The bag is also compatible with the 5.11 tier system and scabbard. With its water-resistant construction, this is a backpack that is ready for any situation. At such a great price, the Rush 24 military bag is a great bargain.
FAQ
Question: Is it a good idea to keep tech devices in the various compartments of the backpack?
Answer: No, it is not. This is because the backpack doesn't come with enough padding for tech gadgets like laptops or tablets. As a result, you're better off acquiring a protective sleeve for your tablet or laptop. But make no mistake; the bag can be used to keep even large laptops without any problem.
Question: Is there a pocket that is particularly created for conceal carry?
Answer: Regrettably, there is no specific pouch inside the backpack that you can keep conceal carry. 5.11 Tactical Covrt 18 Backpack would be ideal for keeping conceal carry. But in case you want to hide something, you should turn to the main compartment. In the main compartment, there are zipper compartments where you can hide your items.
Still, have a question after reading this 5.11 Tactical Rush 24 Backpack review? Comment below.