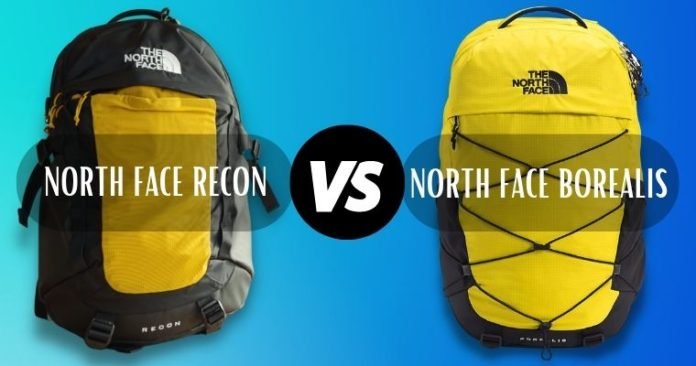 Need a day backpack? Are you confused between too many options? I have a perfect solution for you. You can choose a bag from the North face backpack. The North face has been famous since 1968 for its excellent quality backpack with an outstanding style. So you can find your best match there because of their thousands of unique products. The brand is usually famous for its outdoor objects, and its bags are perfect for daily life. That's why you can find the trendiest one easily, and they keep upgrading those bags from time to time. The North Face Recon and Borealis are two of the most selling products for the last three years. But people often get confused picking one between them. So in this comparison article, we will highlight two of the best backpacks from the North Face Brand side by side so that you can get a clear view of both products and buy one that fulfills all your requirements.
About The North Face Company
The North Face company is well-known for its outdoor materials like tents, backpacks, jackets, etc. At first, they start their journey by retailing climbing recreation material. In 1969, they started thinking about bulky gear backpacks. Then they came out with their multifunctional and sleek bag for traveling, and they also got famous that time for every hiker. After this backpack, in 1975, they launched their tent. These cleverly designed tents are also framed for their unique A-shape and have minimum materials with maximum efficiency. The form then starts their production about everything you need in your every type of trip, and they also develop their every product. That's why you can also use some of the products in your daily life. Now let's see their two best-selling backpacks and help you choose the right one for your next trip.
Exact Differences Between The North Face Recon and The North Face Borealis Backpacks
These two bags have been very famous for every kind of use since 2019. Upgrading those two bags also added an extra advantage for every user.
That's the plus point of these two bags so that you can find a much trendy multifunctional backpack for yourself. Now differentiate both of these bags below: 
Dimension, Volume, and Weight
These Two North Face bags are slightly different in size and dimension. The recon bag height is 21″ in, width 15″ in, and depth is 9″ inches. On the other hand, the Borealis backpack is relatively smaller than that. The dimension of this bag is 19.5″ ×14.5″ ×8″ inches. These are their practical dimensions. This site is a little bit different from the website. Because the website gives the measurement for the Recon backpack is 20.59 x 14.41 x 3.5 inches, and the Borealis is 19.69 x 13.7 x 3.62 inches. 
The volume of these two bags is also different. The North Face Recon bag came with a roomy 30 L main compartment. On the other hand, the Borealis backpack came with 28L for men's and 27L for women's versions. So that makes a big difference for any bag packers. With these two different sizes, their weight is also extra. But both bags are lightweight with their bulky size. The Recon weight is 1.19gm(2.6lbs), and the Borealis is 1.22gm(2.7lbs).
My Suggestion: 
If you want a bag with vast space for your tours and travels, then you love this Recon backpack. Because this bag offers you a roomy main compartment and its weight is a little a bit lighter than Borealis. So it's perfect for a tour.
On the other side, if you want a bag for your campus or commuter life with an ideal size, the Borealis is perfect for you. It's not so big and goes superb in a night out, solo trip, or hiking.
Is there any difference in design?
Take a look at both of these two bags now. The north face tried its best to give two of these bags a great look. These two bags belong in the same company but are different from each other. Like the Recon, one is a very minimalist design. It's a straightforward type design but gets a lot of features. The North Face logo is in the middle of the top of the bag. The model name is at the bottom of that bag.
On the other hand, The Borealis logo is in the corner on top of the backpack. The bag's left corner also sees a medium size model name. That gives a different look from each other. There are many numbers of straps used in both bags. These straps are attached in a different location, giving them another good look.
In the Recon model, two webbing liners make this bag handier with a great look. And air mesh strap compressed section in front of the bag also increases its great-looking. The Borealis also gives a sleek look with its bungee cord. Conclusion These two thing does not only provide a style but also that's very useful. You can find the bike blinker in the front part of the Borealis model, but this is missing in the other model. 
The backside of both these two bags is similar to each other. Both have the same pattern flex vent system, and you can find a small logo and two webbing loops in the belt in each backpack. In the Recon backpack, there are also attached two compression sternum straps. These reflective strips are also helpful with a nice look. The hip strap is detachable.
Who is the winner?
It's a tie. These two bags are excellent from each side. It's tough to choose one between them. The North Face designed this bag in an outstanding style.
But, I personally like the Borealis because of the criss-cross bungee cord. 
In-Depth Features Comparison
The main feature difference between these two bags is their front design. The Recon gives you an air mesh large open section, which can be adjusted with a compress trap. And there's also a tiny size zipper on top of the bag in some versions of this bag. And it has two compress sternum straps bottom of the bag. This section can be used to store a towel or yoga mat. There's also another compress strap in the side with a bottle section. This strap is not only used to compress the size of the bag, but it also gives you the extra security of a bottle or any other short thing you keep in this section.
On the other hand, there is a cress-cross bungee section in the Borealis backpack in front of it. It is an adjustable section to keep important things there and adjust the size with your preference.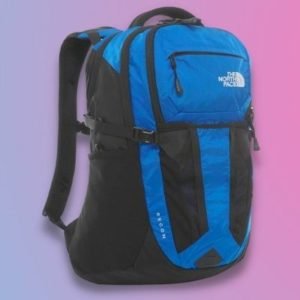 Both bags back side same. Both have a flex vent suspension system. Soft air mesh fabric with vented foam is used in every belt. So both are easy to carry a heavy load. There's also a chest and removable hip strap attaché with a belt. The North face used their best quality harness system in these two bags. Both bags give you the best balancing in heavy load.
My opinion:
These two types of North Face bags are perfect for every purpose. If you need a bag for the gym or your daily commuter travel, I'll suggest the Recon one. Because of the bottom strap, you keep your many large items safely. On the other hand, if you want a bag that easily holds your jacket, sweater, or beach towel, the Borealis is perfect for you. So choose your best one.
Which one offers a large compartment?
The North Face offers many main compartments with an organized sun section and separated laptop sleeves. There's an extra hidden pocket top of the bag and a stash section in the middle in the Recon model, other than the Borealis one. 
At first, it has one organizing compartment. This compartment has one slippers section for holding any size of the document. Then, a zipper pocket is attached to the slipper compartment for storing valuable items. In front of this section, there's an open-air mesh three-section part for a pen, pencil, or another small thing. There's also a key-lash attached to this compartment. 
After that, there's the main compartment. Recon gives 30L and Borealis gives 27-28L. But both are designed very strongly and provide you with ample space. You can easily keep books, jackets, etc. So this bag can use for school or campus or your daily commute travel.  
Both bags have separated dedicated laptop sleeves. This compartment is fleeced line padded to give extra security for the user. A 15″ laptop can easily fit in this compartment. There is no additional sub-section for both of these bags. Both bags have a size bottle section on both sides and are extended with elastic.
Result:
For those who need more space and use the bag only for the tour, I suggest choosing the Recon. It not only gives a vast area, but it also provides many organized options. Both bags compartments are easy to reach and use.
Material, Durability, and Water Resistant
The North Face always uses the best quality material for every product. They use the same material in these two types of bags. 600D polyester toile, 500D oxford nylon slab, and recyclable ripstop are the main fabrics of these two bags. These fabrics are most durable and hard to tear or rip. Zippers always use YKK, and those are also easy to use. Their Sternum strap and belts are also easy to adjust. Fabrics are changing with the variation of colors. 
This ripstop fabric is very lightweight. It is not waterproof. That's why these bags are not waterproof, and they are just water repellent. These bags can use in the mild, rainy area for some time.
Result:
Both North face provides some fantastic color combination. So you can choose your favorite one from their website or an e-commerce site.
Budget, shades, and another version
Both of these North face bags have the same price- around 99$. The North Face makes these two bags a luxury item with great features and great design. And this bag also has some different color options for each bag. 
The North face produced their bag in unisex mainly, but they also specially designed for females in this model. These harnesses are made only for females. The stash is also more profound than the regular version, and its color is also different from others. You can find TNF black, TNF blue, porcelain green goblin blue, Banff blue, acid yellow, etc., in these two bags in the unisex version. But the female section is quite different from the unisex part, like silver-blue, graphite purple, maroon, etc.
Result:
Since both the North Face Recon and Borealis are at the same price, it's totally up to the user what they like to choose. But their women version colors are very different and quite good. This color is also famous among teenage girls. 
Final recommendation- Which one do you want to choose between Borealis and North Face?
The North Face Recon and Borealis both backpacks come with the relatively same budget (under 100$). The shades of each bag are also lovely in every backpack. Both bags are water repellent and built with the same material. That's why before choosing the bag, keep in mind both of their unique features.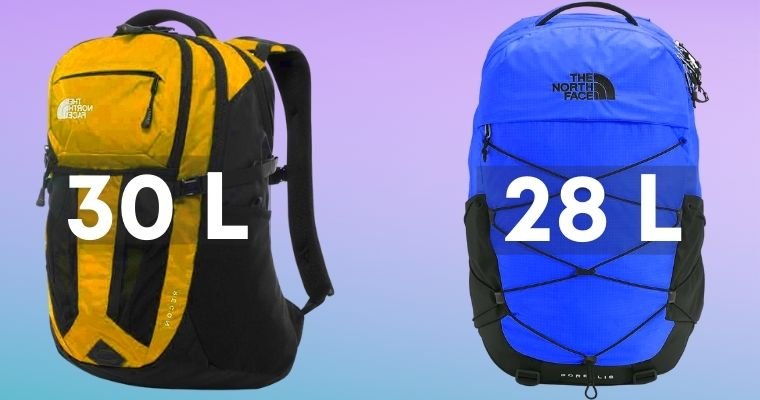 If you want a bag with ample space for your clothes, books, laptop, tablet, and other essential items, then ill suggest going with the North Face Recon. Because of this Recon backpack's main compartment is 30L, which is enough to carry this thing. And their front stash pocket is also suitable for quick storage. 
Or if you want a bag for carrying a minimum amount of clothes or notebook, laptop, etc., and you love the bungee-styled backpack, then it's perfect for you. The bungee system also gives you a lot of free quick space. The Borealis type bag is ideal for school or campus students. So if you love the small-size volume backpack, then this North Face Borealis backpack is perfect for you.