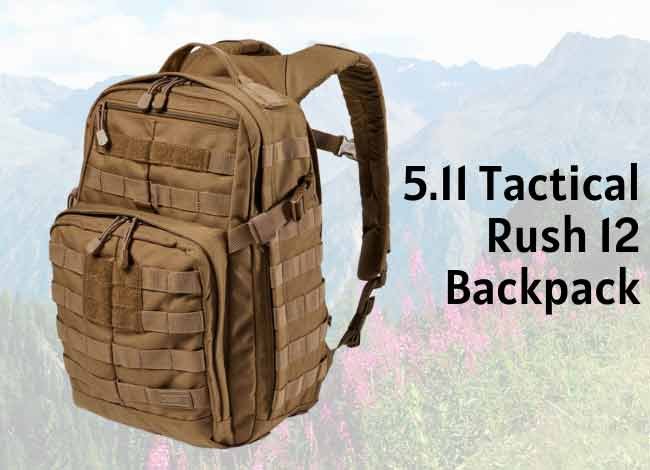 Are you a camper, hiker, military personnel, or just a civilian looking for a sturdy and versatile backpack? The 5.11 tactical Rush 12 backpack is a sturdy, compact, and lightweight backpack that can be used for various purposes.
The 24-liter backpack is made of durable nylon material and is water-resistant. It has 16 different compartments for storing your items as you go about your daily business or for going camping. The backpack is also comfortable as it has adjustable straps with padding. Thus, you can adjust the bag to have a comfortable fit, especially if you are carrying heavy items. Read this 5.11 Tactical Rush 12 Backpack review to know more about this bag.
Technical specifications of the 5.11 Tactical Rush 12 Backpack
| | |
| --- | --- |
| Features | 5.11 Rush 12 |
| Compartments: | 16 individual compartments |
| Total Capacity: | 1476 cubic inch / 24 liter total |
| Dimensions: | 1 x 12.6 x 1 inches |
| Pockets: | Hydration pocket,  Zippered fleece-lined eyewear pocket |
| Ideal for: | recreational use or as an operational bug out bag |
| Compatible with : | 5.11 Tier System |
|  Hydration pocket Durable: | 1050D nylon (MultiCam: 1000D nylon) |
| Handle: | Reinforced grab-and-go handle |
| Wrap-around MOLLE: | /5.11 SlickStick web platform |
| water-resistant construction: | Yes |
| adjustable shoulder and sternum straps: | Yes |
| Front pocket : | 12" x 9" x 1.75" |
| Main Compartment: | 18″ x 11″ x 6.5″ |
| Hydration pocket: | 17" x 11" |
| Weight: | 4.3 pounds |
Despite having all these amazing features, the 5.11 Rush 12 military backpack looks stylish and is sold at a great price. The backpack is affordable than the 5.11 Tactical Covrt 18 Backpack. Acquiring this bag will change the way you carry your things, and you will love its compact size. Also, select a color that you love and use it for survival expedition, outdoor hiking, camping, trekking, patrol, or even hunting. Read our detailed review to find out the specifications, pros, and cons of this assault backpack from 5.11.
5.11 Tactical Rush 12 Backpack Review
24-liter total capacity but more durable than the Maxpedition Falcon 2 backpack
Main compartment measures 18 x 11 x 6.5 inches
The front pocket measures 12 x 9 x 1.75 inches
The hydration pocket measures 17 x 11 inches
Water-resistant 1050D nylon
Zippered fleece-lined eyewear pocket
Adjustable height sternum strap
Internal multi-slot admin compartment
Hook and loop nametape and flag patches
Wrap-around MOLLE/5.11 SlickStick web platform
Two external compression straps
Self-repairing YKK zippers
Contoured yoke shoulder strap system
5.11 Tactical Rush 12 Backpack Review 2022
16 individual compartments
If you're a person who carries a lot of things, you will find that this backpack has enough space for different items. First and foremost, the main compartment is very spacious and has a lot of individual pockets. You can use it to keep your 15-inch laptop, charger, USB cables, textbooks, and many other items. The main compartment measures 18 x 11 x 6.5 inches.
Related article: Check the review of Condor hydration compatible tactical backpack
There are two small mesh pockets in the main compartment for storing essential items like keys and a lighter. There is a retention pocket that can be utilized to keep things like cash and folded papers at the back.
Apart from having the main compartment, the 5.11 Rush 12 military backpack has several other compartments. Among them, the front pocket measures 12 x 9 x 1.75 inches and is subdivided into various compartments for suitable storing of things like pens, notebooks, flashlights, etc. The front compartment allows you to be organized and keep items that you use more often.
Another vital compartment is the rear hydration pocket which measures 17 x 11 inches with ambidextrous hose ports and routing. The backpack as well as features a glasses pocket, which is a zippered, fleece-lined pocket located at the top of the backpack for keeping your sunglasses or other gadgets like a USB.
Durability
The 5.11 tactical Rush 12 backpack is sturdily made to last longer. It is constructed using durable 1050D nylon, which is also water-resistant. So, in the case of rainfall, the backpack will still survive and protect the contents in it. Additionally, unlike most tactical backpacks on the market, this one has no issues with its zippers and seams. It is properly stitched, and you will be surprised at how the seams stay in place for over a longer period of time.
Comfortable
Whether you're carrying a lot of things or just a few things, you will still be comfortable having this bag on your back. This is because it has high-quality shoulder straps and sternum straps that are adjustable. These allow you to carry a heavy load and still be comfortable as the weight is distributed. So, if you're going camping or hiking, the 5.11 tactical Rush 12 backpack will be a great option over a 5.11 Tactical Rush 72 backpack as you won't feel any pain or difficulty. Always ensure to carry the backpack the right way to avoid fatigue or pain.
Size
Since it comes with a 24-liter capacity, the Rush 12 assault backpack will carry most of your EDC items and keep them well organized. It also weighs around 1250 grams, which makes it be a great everyday carry backpack. As a result, you can use it for your daily errands and carry things that you need on a daily basis.
Related article: Technical Specifications of the Direct Action Dragon Egg Backpack
Moreover, the small and lightweight design of the backpack is very convenient to carry and allows you to stuff different items like books, cards, flashlights, laptops, and a lighter. Despite its small size, you can carry things like clothes for camping as it is spacious.
Versatile
This is a very versatile backpack as you can use it for different purposes. The 5.11 tactical Rush 12 backpack can be used as a bug-out bag, survival backpack, range bag, hunting bag, multipurpose pack, or hiking rucksack.
Pros:
It is durable and weatherproof
Has easily adjustable straps
Sturdy zippers
Durable and long-lasting nylon construction
It has MOLLE webbings that allow you to attach some additional pouch for carrying extra items.
It comes with 16 different compartments for the proper arrangement of your EC items and tactical gear.
The main compartment makes passing through security checks to be a breeze as it unzips all the way to the base of the back.
Cons:
The shoulder strap adjusters are not very stable as they slip at times.
It doesn't come with a built-in pad for laptops. But still, you can keep your laptop in the main compartment as it is very spacious.
The backpack doesn't come with a hip belt. But you can purchase it separately or get an Eberlestock Halftrack backpack that has a removable hip belt with PALS webbing.
Conclusion
To sum up, the 5.11 tactical Rush 12 backpack is a small and sturdy backpack suitable for everyday carry and for outdoor activities. It is very comfortable to carry and has MOLLE webbings that you can attach all sorts of stuff that you want. The main compartment and other compartments allow you to keep your things safe and well-organized. It is also water-resistant and great for tactical activities.
So, whether you're in the military, a hiker, or just a guy who wants a sturdy bag for your everyday hustle, the 5.11 Rush 12 backpack will offer you comfort and serve you well.
FAQ
Question: Can I use the 5.11 Rush 12 tactical backpack as my everyday carry bag?
Answer: Yes, you can. Unlike other tactical backpacks, this one is small and compact. It won't create much attention on the streets, and it is very durable. It will allow you to perfectly organize different EDC items and access them easily and quickly when the need arises.
Question: What is the difference between the 5.11 Rush 12 & 24 tactical backpacks? And which one should you choose?
Answer: The difference between these two backpacks is mainly space. The Rush 12 has 24L, while Rush 24 has 37L. In addition, the Rush 12 assault backpack has more compartments and more pockets for storing items when compared to the Rush 12 military backpack. So, if you want a great Rush backpack for your everyday use, I would suggest the Rush 12, while for camping, the Rush 24 tactical backpack may be the best.
Still, have a question after reading this 5.11 Tactical Rush 12 Backpack review? Comment below.