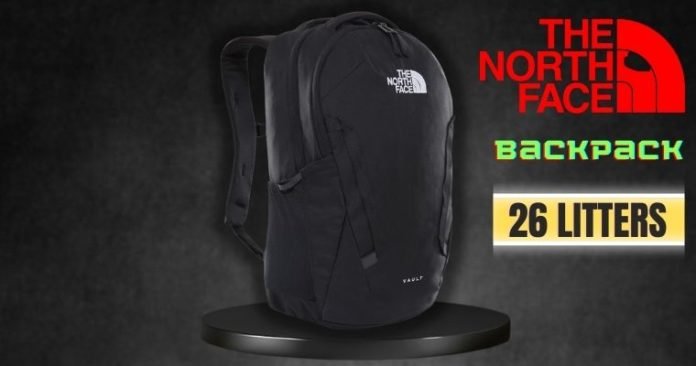 Need a backpack for your daily life carrying a laptop or camping under 100$? The North Face Vault Backpack got us a great solution for reliving this problem. They have a Vault backpack that you can use for every purpose like hiking, traveling, campus, or carrying a laptop. This backpack came with a decent amount of space. It's built-in a great material and it has some pretty helpful features.
It gives a vast amount of space for carrying, and it also provides a stylish vibe with its very convenient design. North Face procedures this backpack differently for men and women, which differ in color, weight, and features. It offers 25 shades in this model, and each color is enchanting. With a considerable amount of features and so many shade options, this bag makes itself worthy of your every penny. It came with a lifetime warranty, and it is also water repellent. Now without wasting any time, let's talk about its features in our North Face backpack review article:
Technical Specifications:
| Feature | North Face Vault Backpack |
| --- | --- |
| Capacity: | 26.5L |
| Material: | 600D polyester, 450D x 300D heather polyester, 210D Cordura nylon ripstop, 600D polyester toile (varies by colorway) |
| Dimensions (HxWxD): | 11″ x 8.5″ x 18″ |
| Laptop Compartment: | Fits up to a 15″ laptop |
| Access: | Front-loading main compartment |
| Organization: | Secondary compartment with organization panel, front elastic bungee |
| External Carry: | Two mesh water bottle pockets |
| Suspension System: | FlexVent™ suspension system |
| Sternum Strap: | Yes, adjustable and removable |
| Reflective Elements: | Yes, bike-light loop and reflective elements |
| Aesthetic/Design: | Casual, versatile & outdoor-inspired |
| Price: | Check Price Details |
Quick summary:
Storage:

The dimension of this bag 11″ x 8.5″ x 18″ (27.9cm x 21.6cm x 45.7cm). Laptop Sleeve: 11.5″ x 11″ (29.2cm x 27.9cm). Volume: 26 litters.

Compartment:

there are two compartments: organizing and main compartment.

Water-resistant:

this bag is made of water-resistant material. So this bag it's not waterproof.

Laptop sleeve:

the laptop sleeve can store a 15″ laptop.

Water bottle carrier:

It has two mesh pockets with an elastic cuff to carry one or two water bottles in different sizes.

Design:

The design is also very elegant with 24 color options.
Check Today's Price
About North Face Bag Company
In 1968, North Face started its journey as a climbing retailer in San Francisco. Now it's a famous outdoor activities equipment company—they produce outdoor clothes, different types of backpacks, footwear, etc. They remain an international brand with many people's trust for their constantly excellent product quality.
Their quality makes them famous for their outstanding design, many more options for every purpose, unisex designs are also responsible for fixing their position. Their products are customer-friendly, and they give a lifetime warranty. Still, the quality of all products and fulfilling every user demand make them popular successfully.
North Face Vault Backpack Review in 2023
The north face is mainly famous for its user–friendly designed backpack. Because they used flex vent technology on the backside, this suspension system designed mesh air pads that allow wind through the fabric, and they used a vertical airflow channel for maximum air suspension. The shoulder straps are made of air suspension material. The shoulder straps also have a flex zone for comforting the shoulder when users carry a heavy load. These straps also prevent pressure point strain and neck strain. The American Chiropractic Association endorsed that these bags created comfort for a user's heavy weight. They used a reflective biking loop for dark time visibility. This 26-28 litters bag can fulfill your every purpose. their man and women's version bags selling prices are the same, and it's between $50-60$.
Durable Material
They first used high-quality materials as their construction, which can change with color combinations. They mainly used the premium quality polyester lining as their central element, primarily a mixture of 50% 600D recycled polyester and 300D heathered polyester. A North Face bag used a 1680D ballistic nylon base as extra ground strength.
The shoulder strap of this backpack is convenient. This strap is assembled with air mesh, allowing air to pass through the material quickly. The Dura-flex ladder lock with nylon webbing, ITW buckles, and high-quality zippers make it more premium.
Compact Design With Comfortable Shoulder Straps
The north face came us a very user-friendly water repellent arrangement in this vault backpack. We can notice the half North Face vault backpack logo on the front and the product name on the side. They used a loop of reflective detailing bike light at the bottom to be visible at night. The attached daisy chain wave on each side in the front helps in the side for extra gear. Each side of the bag has one water bottle pocket with an elasticated cuff to safely use different-sized bottles or umbrellas. The little hoop attached with each pocket can clip or tie with a gear tooth.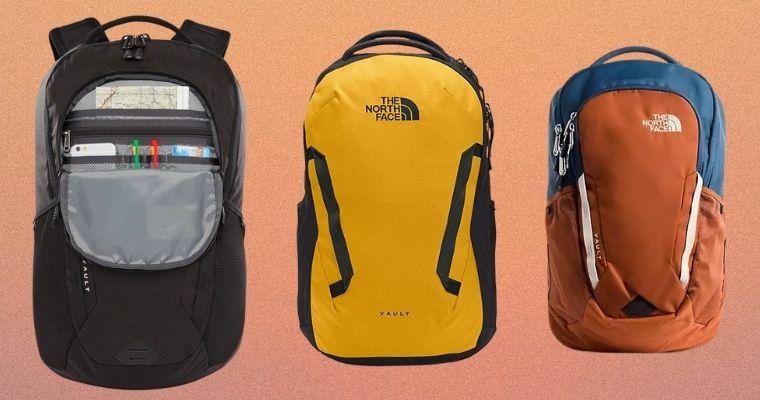 Check Today's Price on Amazon
The back of this bag used a flex vent suspension system. That's one of the best quality harnesses with an appropriate amount of mesh padded and a center vertical channel for airflow and the highest breathability.
The strap uses a flex zone that provides a vast amount of comfort and support around the collarbone, especially for carrying heavier loads. This strap can be easily adjustable. A whistle is also added with a sternum strap to use in emergencies.
On top of that, a well-stitched heavy-duty padded hole handle is attached to carry the massive load. "American Chiropractic Association" endorsed that it can take a bust load with maximum organ support.
North Face Vault Backpack's Main Compartment
This North Face vault backpack used a minimalist but functional compartment design. There are two-compartment in this bag, the organization compartment and the main compartment.
The design of the organization compartment to arrange small things in one place or for daily use or camping in the jungle. It has a bunch of different slots and pockets for many purposes. There are two slots for pen/pencil; another is a mesh pocket. An extra zipped compartment with a key leash also includes this section. Behind that, it also has an additional pocket secured with a Velcro strap, which offers a lot of space for little things.
The main compartment is a vast space for carrying a heavy load with a padded laptop section. So it's used as a campus bag for carrying books. This laptop sleeve can have an almost 15″ laptop. This laptop sleeve is suspended from the bottom of the bag to secure this more from the drop impact.
Dimension and Storage Capacity
The dimension of the North Face vault backpack is 11″ x 8.5″ x 18″ (27.9cm x 21.6cm x 45.7cm). Laptop Sleeve: 11.5″ x 11″ (29.2cm x 27.9cm). Volume: 26 litters. For this size, children can use this as a school bag.
What users like about the backpack:
This backpack is a very convenient size with a lot of space
The laptop sleeve is almost 15″
The laptop sleeve separated from the ground
Water repellent with Flex vent technology
Very useful for students travelers
What can be the downsides?
The main disadvantage of the North face vault Backpack is it's not waterproof. It's water repellent. Both are different terms.
Final Overview
Overall, the North Face vault backpack gives a lot of advantages, and it can use as a school or college student, a hiker, or a traveler. Their convenient design is stylish and very handy for daily life purposes. The durability is also outstanding from the perspective of their materials. Because of this, the product quality can be used as school bags for children because of this good product quality. They can easily carry the book, laptops, lunch boxes, etc. Because of this multipurpose reason and their excellent quality at an affordable price make North Face vault backpack so much worthy.
FAQs
Is the North Face Vault Backpack waterproof?
No, it's not. The materials of this backpack are water-resistant. But it's not waterproof. So if you go to a wet environment, use a dry or zip lock bag for protection.
Can it be used as a school bag?
Yes, it is. Because of its two-compartment and two bottle holders make it is easy to use for school students.
Can I use the North Face vault backpack as a laptop bag or a school bag?
Yes, you can easily use North Face Vault backpack as a laptop carrier. In its inner compartment, a padded sleeve was added to carry the laptop. This sleeve is also not attached to the bottom of the bag to minimize the damage when it falls n the ground. And you can carry a 15″ laptop in this.
What about the product quality?
This backpack's quality is excellent. It's made with a mixture of 50% 600D recycled polyester and 300D heathered polyester. A North Face bag used a 1680D ballistic nylon base as extra ground strength. There's also a used flex vent system in the back that allows air through the fabric.
How big is the North Face vault backpack?
The dimension of this bag 11″ x 8.5″ x 18″ (27.9cm x 21.6cm x 45.7cm). Laptop Sleeve: 11.5″ x 11″ (29.2cm x 27.9cm). Volume: 26 litters.