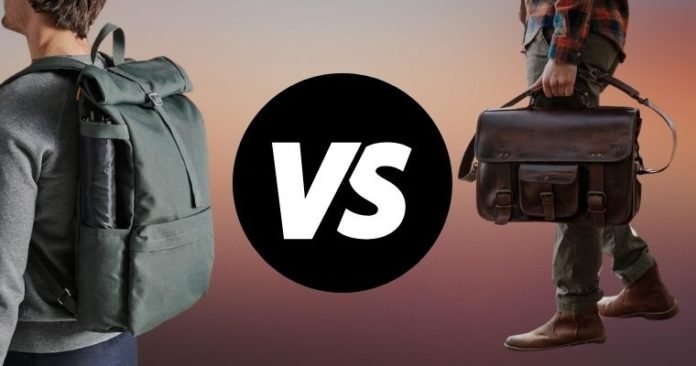 In this 21st century, the sense of being stylish and realistic is necessary while it reflects your professionality. In the modern age, your outfit symbolizes the modernism in you, and your day-to-day carrying bag shows real aestheticism. So, while choosing a bag, you should be aware of not harming your attitude and personality. You have to know when these bags are appropriate to use and when they're not. Today's article will demonstrate a proper guideline about what kind of bag you should convey to your institution or workplace. Backpacks or briefcases, Which will be most suitable for you? Before deciding whether to buy a backpack or a briefcase, have a vigilant look at this comparison article.  
What are the core differences between a backpack and a briefcase?
Before starting the discussion, let me introduce you to the elements of both the backpacks and briefcases. There are some core similarities and dissimilarities between a backpack and a briefcase, but both support conveying your daily necessities. They have their own aspects and features.
What is a Briefcase?
Talking about a briefcase, the first thing to our mind is that it is a traditional rectangular-shaped, hard, and durable hand-carrying bag. But in the modern age, the definition has been changed. Now the briefcase comes with a more aesthetic and fashionable look. Its design and build quality has changed over the years. Previously, a briefcase looked more rigid and hard; it was like a hard wooden box. But at present, companies provide a soft and smooth texture to their briefcase. A huge change can be seen in the compartment section.
Most of the briefcases have a large main compartment section and a soft padded laptop compartment for carrying a standard size laptop without any difficulties. A briefcase is an emblem of professionalism and status. It suits the office culture most. If you have a decently designed briefcase with you, you are considered a tasteful person. You can carry official documents, your laptop and notebook, tablets, and other small official accessories into your briefcase.     
What is a backpack?
A backpack is a traditional sack carrying bag that carries more bulk and has more compartment and space advantages. It is mainly ideal for students, hikers, and travelers. So it can be used as a daypack that can carry all of your essentials, laptops and tablets, and other pieces of stuff you need to survive. Backpack is more casual than a briefcase and can be fitted to the urban environment. You can say backpacks are all-purpose carrying bags which give huge advantages of carrying a large number of pieces of stuff.
The main advantage of a backpack is that you can carry those on your backs as shoulder straps are available. It gives an even distribution to the luggage, and the body remains fit for carrying those bulk for a longer period. A backpack is your little home and the best companion for serving trekking and hiking purposes. This is the most popular kind of carrying bag. Some backpacks are water-resistant and waterproof, which takes good care of All your stuff and gazette. Some Brands use durable materials to give a long-lasting timespan to your backpack. 
Backpack or Briefcase: Which One is More Durable?
Before buying a product, one of the main things is its durability. We usually search for a durable product. If it is a matter of durability, briefcases are far ahead of backpacks. Companies generally make their briefcases with more durable and rough substances as this product will be used in office culture, and in-office appearance matters.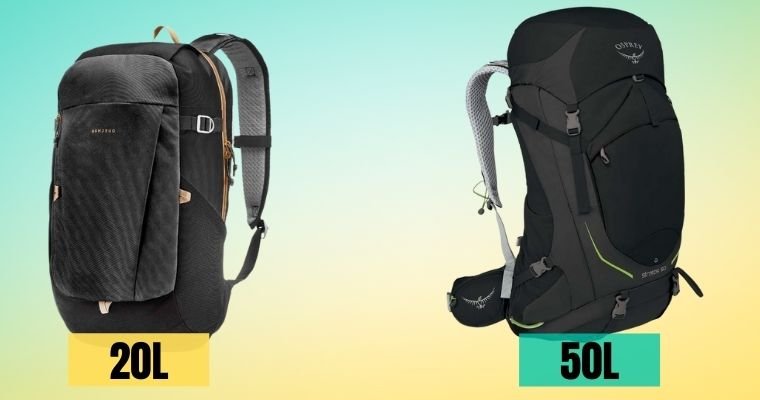 Materials used in the briefcase 
Briefcases are Usually made of quality leather materials. Briefcases which are made of natural leather are highly expensive. Some companies use synthetic materials to reduce the cost and increase water resistance; these Briefcases have looked fine and silky over the years. There are many other materials like faux leather mix material leather: quality full-grain leather briefcase, Vegetable refined leather, and many more. But there are Cons that these leather materials are not waterproof nor water-resistant. So, while using these laptops, you should be really aware of the rain. To avoid this difficulty, they use synthetic materials, which gives the product a water resistance quality, and another advantage is that using synthetic materials decreases the product's pricing. Leather briefcases are always fashionable and a symbol of aristocracy. Carrying a leather briefcase to the office may uplift your self-esteem and give you a boost of confidence. 
Materials used in Backpacks
Most of the backpacks are made of inexpensive materials. Companies normally use Nylon, Polyester, polyproline, or canvas materials to design their backpack, Which is quite durable. Nylon is a kind of plastic that is melted down to reform the durable and tough fabric. It gives the backpack protection from the bad weather and rain. Polyester is also a kind of plastic being transformed into mostly waterproof fabrics.
Polyproline is not seen mostly in the backpack as these materials are rare to find. The most highlighting feature of this material Is that it gives security to the product from being torn out. The most popular material used in the backpack industry is Canvas material. It is mainly produced from different fibers. It comes in a variety of colors. So companies use this to craft the aesthetics and differentiate the color and texture samples.
Overall, the materials used in the backpacks are not that durable compared to the leather material used in the briefcase. But backpacks come in various designs and architectures, which is absent in the briefcase sector.   
Which provides more space between Briefcase and Backpack?
If you are more concerned about the spacing and compartment section, then clearly, a backpack is a winner here. In a backpack, You can carry stuff more than a briefcase.
Backpack Gives You Huge Space Facilities 
The Backpacks are mainly known for their spacious compartments, and it gives you ample opportunity of putting your pieces of stuff with ease. The most common backpacks come with between 20 to 50 Liters.  
Backpack Compartments
Most of the backpacks have at least two to six compartments to give you huge storage facilities; here comes the main compartment where you can put your bulky item, clothes, books, and other necessary utensils. The laptop compartment has a padded or foamed space for keeping your laptop of standard size. The laptop sleeve is highly designed with soft foam in case your backpack falls into the ground; your laptop remains safe and secured.
There may also be a tablet compartment to fit your tablet or iPod. You can keep the important documents also. Along with these, there are awesome mesh pockets to keep the water bottles. There could be more side compartments to keep smaller items like sunglasses, pens, and pencils. It has Small mesh pockets to hold the tiny accessories. There are also rolling backpacks suitable for long air or ship journeys. Those who tend to carry heavier stuff can choose between the duffle backpacks or larger daypacks.
Storage of the Briefcases 
Briefcases are designed for a pure office environment, where storage is not the main concern. A briefcase is all about aristocracy and status. However, modern companies give ample storage opportunities to fit your official documents, small types of equipment, or a simple overcoat. Though it is not perfect for a day trip or hiking, you can comfortably carry this to the office. Circular items or bulky stuff will not fit into it, but you can carry flat items like laptops and MacBooks or a single tiffin box. Leather briefcases may have some external pockets to give you more opportunity to fit in some small accessories.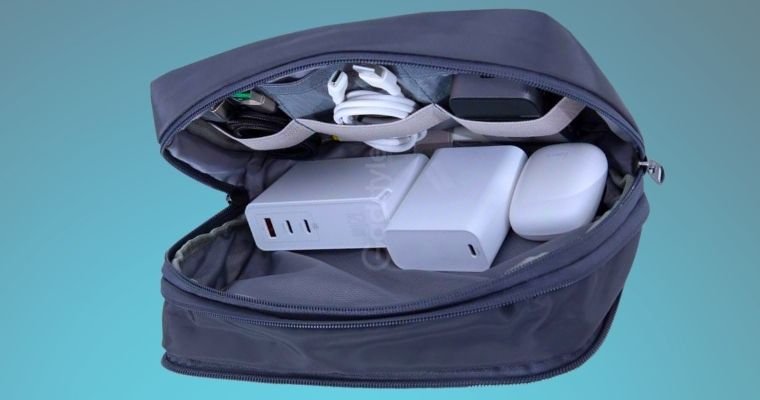 Briefcase Vs Backpack: Which is More Expensive?
Now we will talk about the most eminent aspect of this article: which product is more costly and why. Here is given a comparison of pricing between these two products,
Briefcase Price Ranges
If I say to you that the briefcase price starts from a hundred dollars, will you believe it? Yes, you indeed have to spend over a hundred dollars to buy a minimum quality briefcase. This product is normally made from leather. And leather is a costly raw material, and if it is natural leather, the prices will be higher. There is actually no barrier to how much a briefcase may cost you. We can classify the briefcase according to price and durability for reading convenience.           
Low budget briefcase 
Though the title is a low-budget briefcase, the pricing is not so low. If you want to buy pretty much a decent briefcase, you must have over a hundred dollar budget. There is no guarantee that you may get a briefcase made of real leather in this price range. The briefcase may not have an extra compartment for carrying your laptop or tablet in this price range. 
Medium Range Briefcase 
A medium-range briefcase will start from five hundred dollars. You may buy a large and well-furnished, multi-compartment backpack in this price range. But if you are office personnel and you are passionate about briefcases, then go for it. It will elevate your confidence and make you feel superior. Some brands may offer you a quality briefcase in the medium price range.
Top-end Range Briefcase
If you are a briefcase freak, then this price range is for you. The high-end briefcase will range from one thousand dollars to the upper. These briefcases are purely made of natural and real leather. You can also prefer a custom handmade product that machines can not perform. The engraved buckles and clasps can add aristocracy to the design. You can be tension-free about the durability of this product. 
Pricing of the Backpack
Backpacks are the most simple and common method of carrying your stuff. It is suitable for all. If you are a student and like to travel or go hiking, then backpacks are rescued. If you are an employee of the industry and searching for heavy-duty gear, then a backpack is there to meet your demand. You can find your suitable sized backpack ranging from fifty dollars to four hundred dollars. If you want a durable and waterproof backpack for hiking or schooling purposes, then you can see the medium-ranged backpacks costing you only one hundred to two hundred dollars. Overall, a multi-purpose backpack can serve you by carrying bulky and heavy-duty items. If you ask me, I will go for the backpack option between the two as I can get a wide range of facilities here.  
Briefcase or Backpack: Which one is Good for Carrying?
Backpack and briefcase are the two specimens in the world of Bags. People buy those products, which provides them a safe and secured atmosphere. In this phase, I will discuss the weight distribution of both items. 
Weight Distribution of the Backpack
One of the greatest advantages of the backpack is that it gives an even distribution of weight. The backpack has two padded straps at the backside, which carry almost all the weight of the luggage. Moreover, sternum buttons and waist buckle buttons are at the back, making the grip even stronger. Shoulder straps allow the even distribution to both shoulders, and it maintains a balance between both shoulders, and your body will feel the ease and comfort.         
Weight Distribution of the Briefcase
When you carry the briefcase in hand or on one shoulder, it creates unwanted pressure on your body on one side. The briefcase creates pressure in a particular part of the body, which may cause long-term effects on the body. Though a briefcase in hand looks classic, its weight distribution is not so suitable for carrying a bulky briefcase.
My Recommendation- Which One is the Better Option?
Now here comes the most important question of them all, which product should you buy and why between the two.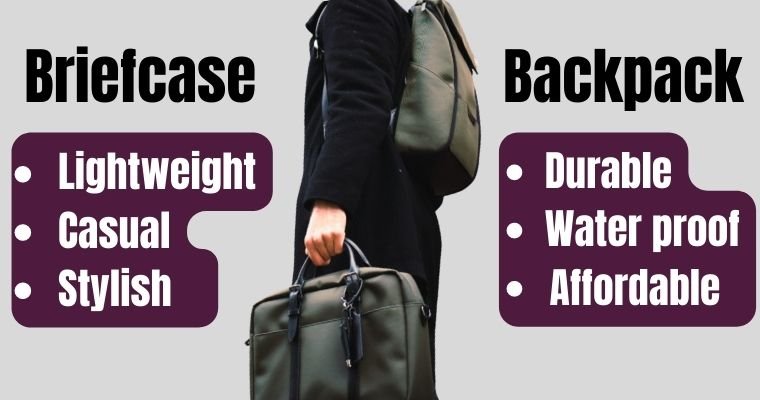 Who should buy a briefcase?
If you are a professional office employee and need to carry a lightweight bag, then a briefcase is ideal for you. It is the symbol of excellence. Carrying a briefcase can give you a grown-up attitude, and you will feel the difference of confidence in yourself. Actually, a suitcase is a sign of professionalism. In-office culture, you can not carry a product that looks too bulky, or the straps in the backpack cause a haphazard situation for your outlook.
Who should buy a Backpack?
If you are an Undergraduate or a professional hiker, backpacks are ideal. It would be best to convey extra chores or more stuff for your after-school activity gym. Another aspect of the backpack is that it can carry heavier stuff. While trekking, you can carry a small mat or more utensils that you can carry into your backpack, or you are going for a day trip with your laptop, tablets, and other devices inside the backpack. Both the products have different target audiences, and both are evenly popular among their consumers. So choose wisely the best one which meets your requirements.  
Summary
Bags are stylish, productive, and a helpful companion to your day-to-day life. If you do not choose the ideal bag for you, it costs you badly. Before buying a bag, I suggest you read this comparison article which will clarify your mind about whether to buy a backpack or a briefcase. First, analyze your need and give attention to the pricing factor. If you feel that you have a decent budget and need a professional office bag, then undoubtedly, you should go for the briefcase. A briefcase is a form of both reminiscent and aesthetics, But if you are a student or a traveler and feel that the budget is tight, I suggest you buy a middle-range backpack. Both the products are best based on some important factors. I hope this article will be advantageous for you to choose the ideal product and wish you the best of luck.