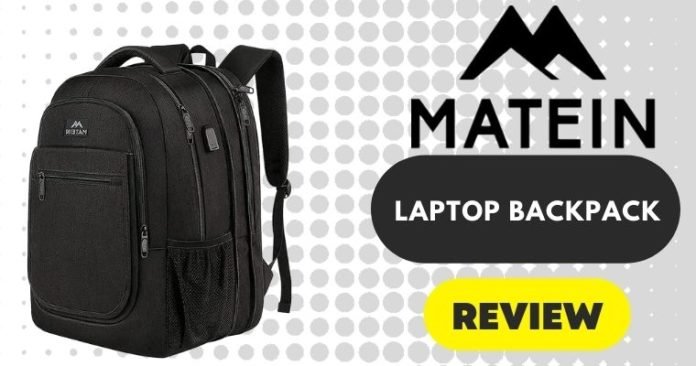 Are you looking for a laptop backpack for a trip or your office or class that's comfortable, affordable, and has a lot of pockets? In that case, the MATEIN Travel laptop backpack can be your best solution. This backpack makes it easy to carry your laptop or necessary stuff for traveling.
This backpack comes in different shapes and colors and has some exclusive features. For example, this backpack has an anti-theft pocket that helps you keep your most valuable stuff safe and secure in a hidden compact. This backpack has a laptop compartment, where you can store your laptop. It has a main compartment with so much space to keep clothes, books and other belongings. In the front compartment, you can keep your phone, keys, and other small essentials.  The backpack also has some additional features that will be discussed below in our Matein Travel Laptop backpack review article.
It also has side pockets that hold a water bottle or umbrella. The bag comes with solid padded straps and a back, and rear strap for securing the backpack on a traveling bag. What's more impressive is this bag has an additional USB connector for charging your phone. It's all in one with a very affordable budget of under $50.
Technical specifications of the Matein Travel Laptop Backpack
| | |
| --- | --- |
| Features | Matein Travel Laptop Backpack |
| Product Dimensions: | 19 x 13.75 x 7.8 inches |
| Laptop compartment dimension:  | 16 x 10 x 2 inches |
| Item Weight:  | 2.5 Pounds |
| Capacity:  | 34 Liter |
| Laptop Compartment:  | 13-15 inches |
| Style:  | Laptop Backpack, Laptop bag |
| Feature:  | USB Charging Port, Luggage Sleeve, and spacious pockets |
| Water-Resistant:  | Yes |
| Waterproof:  | No |
| Material:  | Polyester Fabric |
| Price:  | Check Today's Price on Amazon |
Slim Business-Class Matein Travel Laptop Backpack Review
Design and Weight
The Matein laptop backpack comes in different colors and shapes. It is really big in size and has a lot of room for keeping stuff in. The size of this bag can be down to 7.8 inches from a maximum of 18 inches in measurement. I don't need to mention it when I say that this backpack's storage capacity is a lot. You can put a laptop in the bag up to 15 inches in it without any hassle.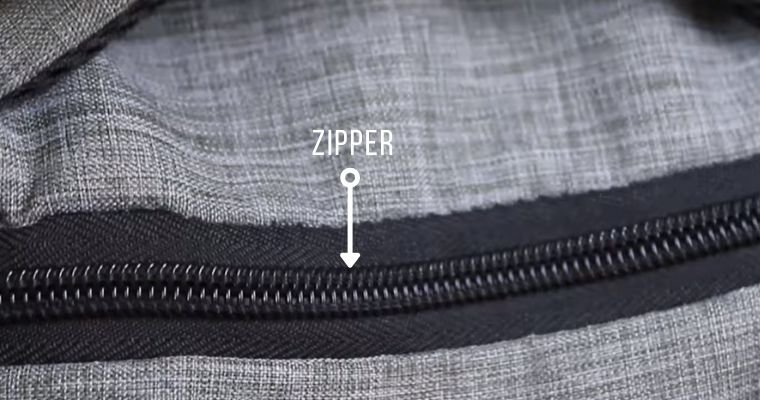 Its larger version can be up to 19 inches in height and hold things in with almost more than 13 inches wide. The backpack is very lightweight as it weighs around 2.5 pounds only.
Matein Laptop Backpack Comes With Multiple Colors
The Matein travel laptop is designed very stylishly and comes in a range of so many versatile colors. You get to have the bag from navy blue to light gray, black, tawny brown, red, gray-black cameo, camouflage, blue, black charcoal, and austere grey. You can choose the color for your backpack according to your need and favorite color. So make sure which color will not get dirty while traveling and which of them will be suitable for your day-to-day life activity usage. 
 Affordable
price
The Matein laptop bag is exceptionally comfortable and durable, has a lot of compartments, and offers so many facilities with a very reasonable price under $50 whenever you order. It may be cheap, but it gives you more benefits, which are much bigger and better. In short, It's the best option within a very reasonable budget.
Storage & Space 
When using the Matein laptop backpack, you'll understand it's so much more than the exterior looks and stylish design. This bag comes in with a maximum capacity of 34 liters. That can be easily stored in your belongings for a trip. Or will come in handy for your day-to-day necessities for your study or work. The main bag has two large backpack compartments containing one laptop compartment, the main compartment, side pockets, and the theft pocket as three mini compartments.
Matein Backpack Laptop Compartment
If you need your laptop with you all day for work, you might find the laptop compartment of the Matein Travel laptop very helpful.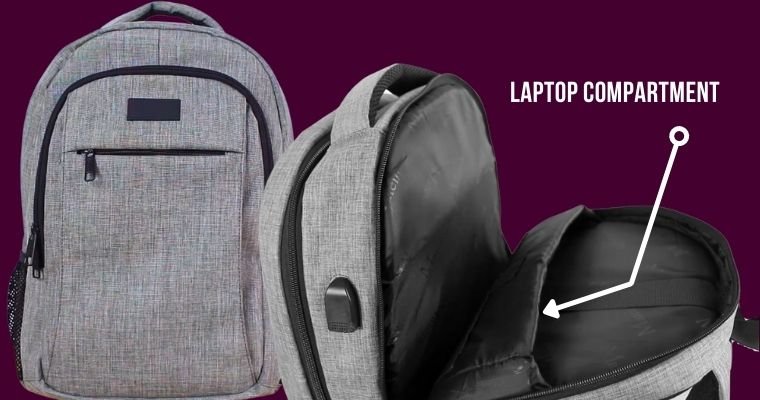 The first compartment has a separate space to keep your laptop with a securely padded outline to protect your laptop. This backpack is capable of holding a laptop from 13-15inches in size. And because of this padded compartment, your laptop is safe from getting damaged in any case.
Main compartment
The next pocket is the main compartment with more space to store many clothes for travel or books/necessary goods for class or office. It has the maximum capacity to hold up to 30-40 liter worth of stuff inside. This section is a large compartment with a sleeve. The sleeved side helps to keep small essential things like notepads and such.
Mini Compartments
Its front pocket has two small pockets of which, one is a meshed pocket which helps spread more space. The other one is a padded front pocket. These pockets are beneficial to store your small necessary items such as keys, pens, sanitizers, etc. It also has two mini meshed compartments on both sides of the bag to hold your water bottle or umbrella. 
Matein Travel Laptop Backpack Features Anti-Theft Pocket
The last pocket is an anti-theft pocket at the back, and that's hidden. It's padded and very secure to store your valuable belongings, such as your wallet, passport, etc. This feature is beneficial and unique. The pocket is padded and pushed at your back when you're carrying the backpack. That's how you'll know that your most valuable items are safe in the back.
USB Port Design
This backpack comes with both a built-in and build-out USB cable and charger. This USB power bank doesn't charge itself, and you have to charge them first. But this feature makes it so easy for you to charge your devices while traveling and being outside anywhere. 
Matein Travel Backpack Uses Polyester Fabric Material
The Matein travel laptop backpacks are water-resistant but not waterproof. The materials to make these bags are Polyester Fabric instead of nylon. That is why the bags are not waterproof, but if the manufacturers made those from nylon or such, they'd be so much more expensive. So, it's kind of appropriate for the price. The bag has metal zippers, which ensure long-lasting use, and are also pretty well-made. Two of the main compartments can be locked too, which offers higher security in traveling and keeping valuable stuff inside. The materials are durable, high quality, and very secure.
Comfort and Sturdiness
In terms of giving you maximum back support, the backpack has thick but very soft and ventilated padding. It also has adjustable short straps to make the bag secure, and you can adjust them according to your need. The bag has two handles, one padded with foam and the other one just standard fiber.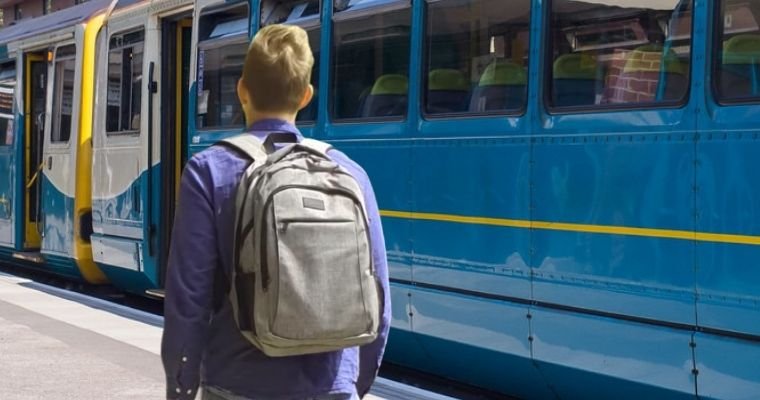 The handles make it easy for you to carry the bag with you comfortably. This bag has a luggage strap that you can use to adjust the bag with your luggage while traveling. It keeps the bag safe and makes it easy and comfortable to carry when on a trip. 
Security
The Matein Travel laptop bag is very secure. It doesn't only provide us with the ability to lock the zippers, and it has a theft pocket to keep your valuable belongings safe. And it is TSA-approved which means while traveling, and you wouldn't need to take your laptop out for the security check.
Key Feature review of Matein Travel Laptop Backpack
Lightweight and comfortable to carry

It has a lot of pockets and massive storage

The backpack is affordable compared to its features

It has a USB connector that helps charge your device wherever.

Has long-lasting, well-made metal zippers

It has an anti-theft compartment to keep your valuable products protected.
Cons
Bottom Line
Overall, The Matein Travel laptop backpack is pretty functional and one of the best-selling bags on amazon for its exclusive features. It has an extensive storage space capacity and is highly fashionable compared to its pricing. This backpack comes in handy for students, Officeworks and even traveling. It also comes with a USB connector, has a separate laptop compartment, and is very cheap overall. It will only be wise to go for this bag if you are looking for an all-in-one bag at a reasonable price.
FAQ
Can I carry my laptop while traveling?
Yes. You need to have a backpack that has compartments for laptops and make sure that they are TSA-approved.
Can I charge my phone while traveling?
With a backpack that has a USB port designed, you can easily charge your phone while traveling.
What is a standard size for a travel backpack?
A backpack that has a maximum capacity of 20-30 liter of capacity should be helpful enough to carry all of your belongings while traveling.
Is a 30L backpack big enough?
A 30L backpack should be big enough to hold your clothes, sleeping bag, and other belongings for a hike or a trip.