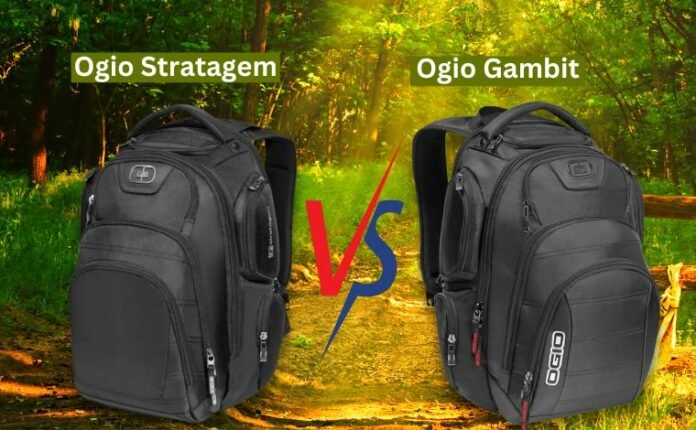 Ogio is a manufacturer of attractive backpacks, and the brand has several collections of beautiful bags. Stratagem and Gambit are two popular ones. But before we compare, let's check what features are similar in those two backpacks.
Comparison Table: Ogio Gambit vs. Ogio Stratagem backpack
| | | |
| --- | --- | --- |
| Features | Ogio Gambit | Ogio Stratagem |
| Dimension: | 19.5 x 15 x 10.5 inches | 20 x 15 x 12 inches |
| Weight: | 3 lbs | 3.5 lbs |
| Material: | 420D Polyester | 1680D Polyester |
| Capacity: | 33.5 Liter | 32.8 Liter |
| Price: | Check Review | Check Review |
Matched Features
The Ogio Gambit backpack is what consumers consider a great and well-built backpack. On the other hand, the Ogio Stratagem backpack is also a money-worthy and outstanding bag because of its additional features. Both of their laptop compartments are 15.5 in height, 11″ in width, and 1″ in depth. You can easily fit your 17″ laptop inside the laptop compartments of both backpacks.
If you want to keep your phone or tablet in your backpack, both Ogio Stratagem and Gambit backpacks will ensure safety. Padded sleeves for laptops, tablets, and e-readers are the common features of Ogio Gambit and Ogio Stratagem. The padding of both bags ensures the safety of your devices.
Ogio Stratagem vs. Gambit: Which backpack is good for you?
Ogio Stratagem and Ogio Gambit are almost the same backpacks according to their features. Although it is hard to say which is better, it is necessary to compare to select the perfect backpack.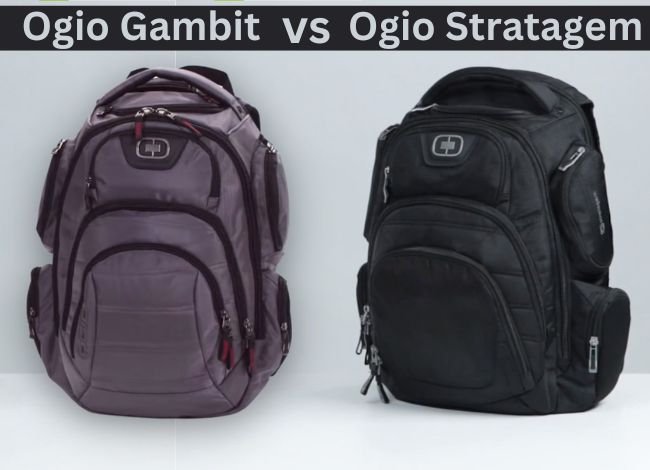 Product Dimension
The Ogio Stratagem backpack is slightly larger in dimension than the Ogio Gambit.
Ogio Stratagem is 20 inches in height, 15 inches in width, and 12 inches in depth. On the other hand, the dimensions of Ogio Gambit are 19.5 in height, 15 inches in width, and 10.5 inches in depth. The height and depth determine whether Ogio Stratagem has a larger capacity.
Which backpack is lightweight?
Ogio Stratagem is larger than Gambit. Similarly, its weight is 3.5 lbs (1.6 kg). But, the weight of the Ogio Gambit backpack is approximately 3 lbs.
Comparatively, Stratagem is a larger backpack, so it seems that carrying a Gambit backpack is easier. But, if you consider the height, width, and depth of the Stratagem backpack, it will be easier for you to carry many types of equipment.
Which one is more durable?
Both the Ogio Stratagem and Gambit backpacks are made of polyester. But, the categories are different. An Ogio Stratagem backpack is made of 1680D polyester; an Ogio Gambit is of 420D polyester.
1680D polyester is a durable material. It has a high load capacity and splash-proof properties with an additional PU coating. The coating also strengthens the material and therefore makes the backpack more durable. On the other hand, 420 D polyester is medium water resistant, watertight, and durable. However, 420D polyester is soft and pleasant to touch. Since both 1680D polyester and 420D oxford polyester materials are good, you can select the backpack as your choice.
Price Comparison
The price of Ogio Gambit is approximately $99. Ogio Stratagem's price is slightly higher than Gambit's (Over $100).
Conclusion: Which is better?
Are you confused about the two backpacks? No way, let us compare and take the decision to purchase the most suitable one for use.
Ogio's Gambit and Ogio Stratagem are almost the same in various features. Still, there are some differences that determine Stratagem is slightly better than Gambit.
Although Ogio Stratagem is much pricier and weightier, it has some advantages. The Ogio Stratagem backpack's dimensions are larger than the dimensions of Gambit. So, when you are looking for a bag for a long trip with a large number of items, you can select the Stratagem. On the other hand, the Ogio Gambit will also be suitable as a travel bag if you want a backpack at a slightly lower price.